ADVANCED SECURITY RISK MANAGEMENT MADE EXCEPTIONALLY EASY…YOU DON'T NEED TO BE AN EXPERT.
TRY IT FREE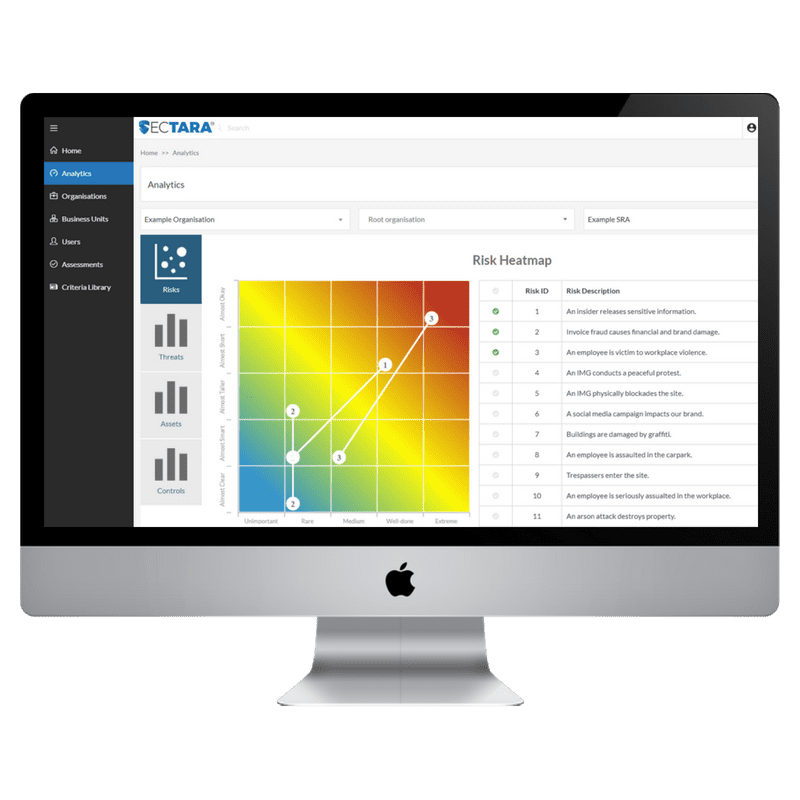 SECTARA is the most advanced and logical security risk management platform available today.
Packed full of everything you need, it comes ready to go.
GET STARTED FOR FREE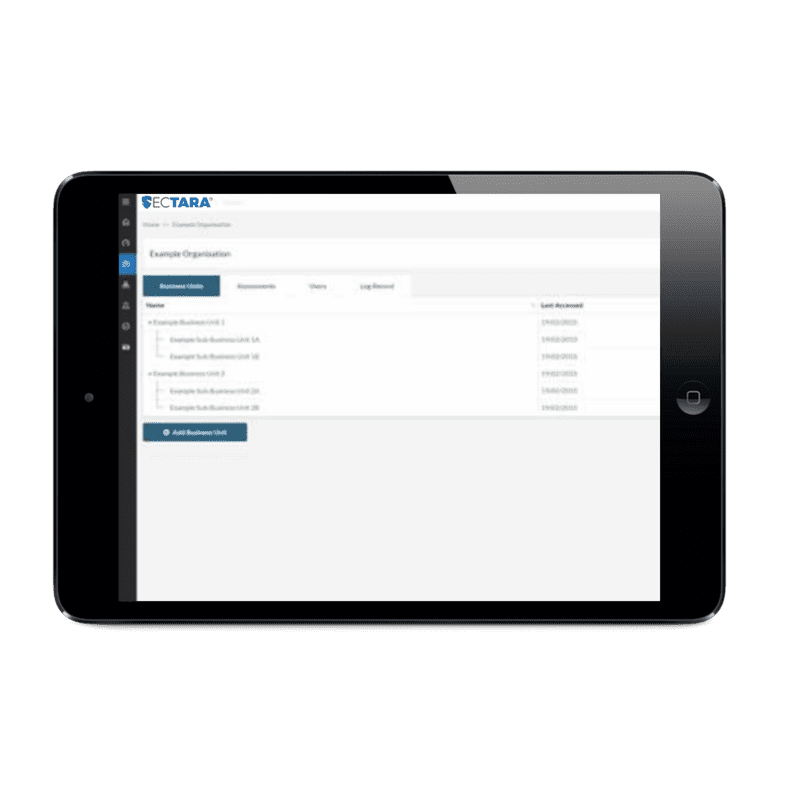 An intuitive, user-friendly system that enables users to perform advanced security risk assessments rapidly, while using a consistent approach each time.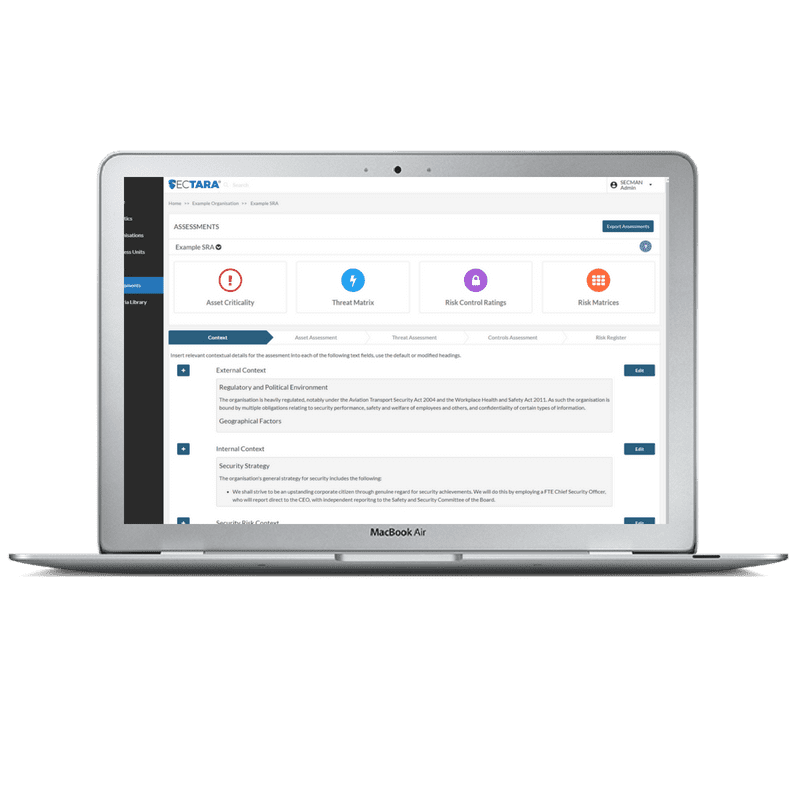 Stunning user interface and extremely simple navigation, and wow-factor interactive visual reporting for detailed analysis and powerful debriefs to management.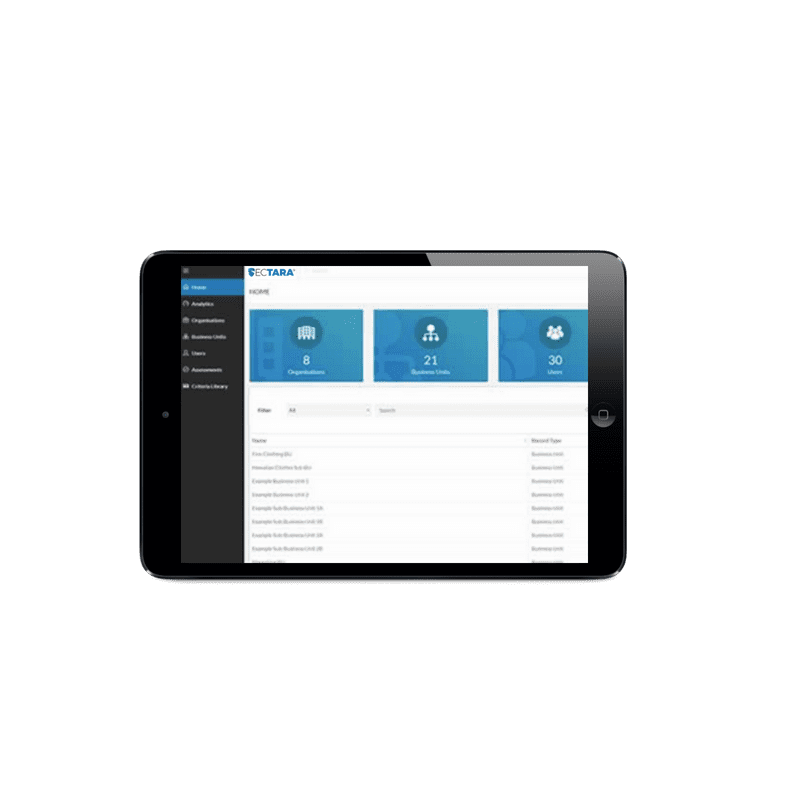 Designed to surpass the requirements of ISO 31000, HB 167:2006 and ISO 27005. The sensible logic through the assessment process is unmatched on the market today.
Interactive visual reporting
Visual analytics enable users to conduct powerful debriefs, and step audiences through the logic of each assessment.
Any scope, any industry
Protective AND cyber-security, events, buildings, precincts, operations, travel…SECTARA has been designed so as to be applicable to every industry.
Four user types
Organisational Administrator, Business Unit Administrator, Assessor and Viewer – affording extensive control over the system.
Collaborative
Collaboration is assured,  you can create a view user to enable others to see individual assessments, including auditors.
Data libraries
Users can draw from growing data libraries, meaning enormous gains in productivity for those who carry out assessments routinely.
Simple and easy to use
Extremely powerful and intuitive search, filter, sort tables renders everything in the system at your fingertips.
Taking a standards-based approach to security risk management means that some users will already be familiar with the elements involved in the process. Where SECTARA differs is how we've put them together, how powerful each component is, and how easy it is to move through the simple, step-by-step process.
Key Global Security Risk Management Standards
SECTARA's Level of Alignment with each
Aligns to International Best Practice for Security Risk Management
There are alot of reasons to like SECTARA - we've included a list of the key ones below.
It's the most advanced system of its kind, but the easiest to use.
Simple, online internal and external (assessors/auditors) collaboration.
Video-based instructional guidance relating to all aspects of the system.
Our monthly pricing is unbeatable, SECTARA really is great value.
100% standards-based assurance, indeed SECTARA is best practice.
Hosted within an Australian Government accredited data centre.
The entire system has been designed by the security risk experts.
With four user types you have complete control over who does what.
SECTARA is the system of choice for advanced risk practitioners.
No more major annual/biannual spend on security risk consultants.
Help is at the end of the phone for Enterprise clients, at no cost.
Frequently Asked Questions